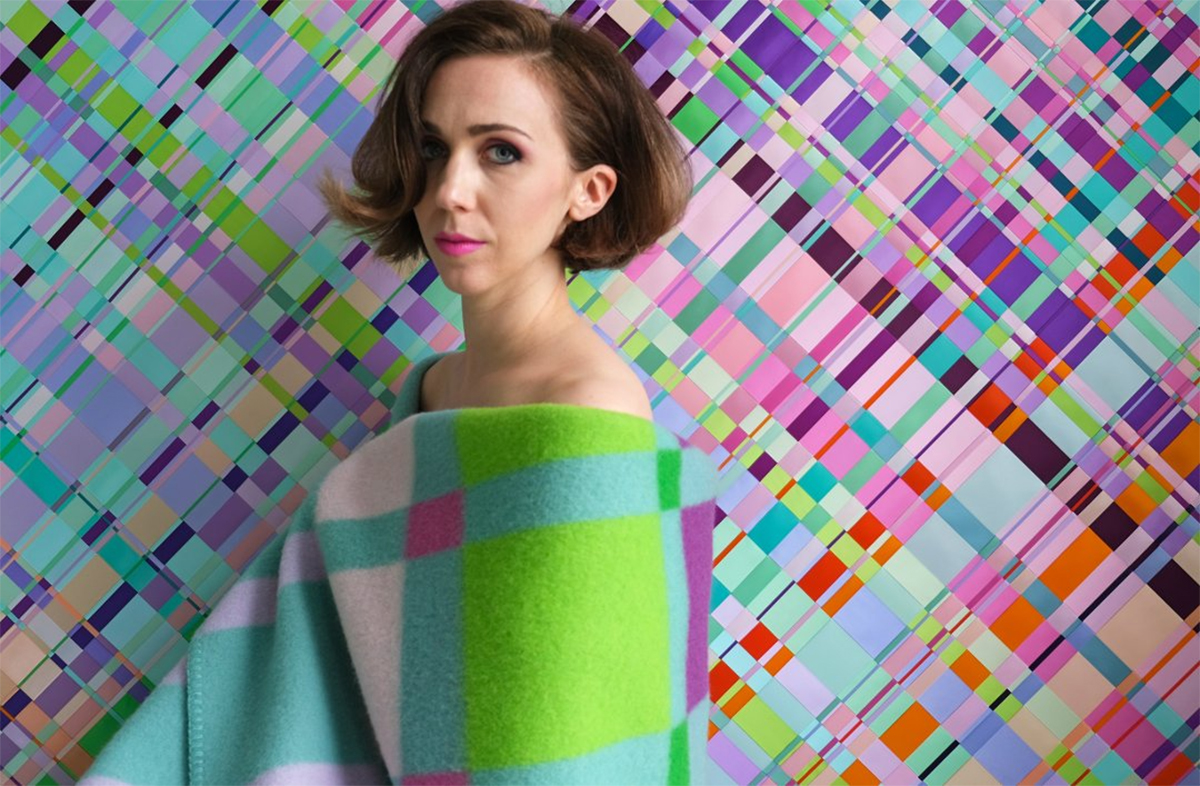 Slow Fashion: An Interview with Ingunn Birkeland Oslo
In my recent post from Oslo Fushion Festival, we discussed the hailing theme of sustainability echoing from Norwegian design and Scandinavia. After the festival, I caught up with a few of the designers including Ingunn Birkeland for interviews to learn more about the brand's manufacturing and design process. In Norway, Slow fashion is leveraging traditions to design the future.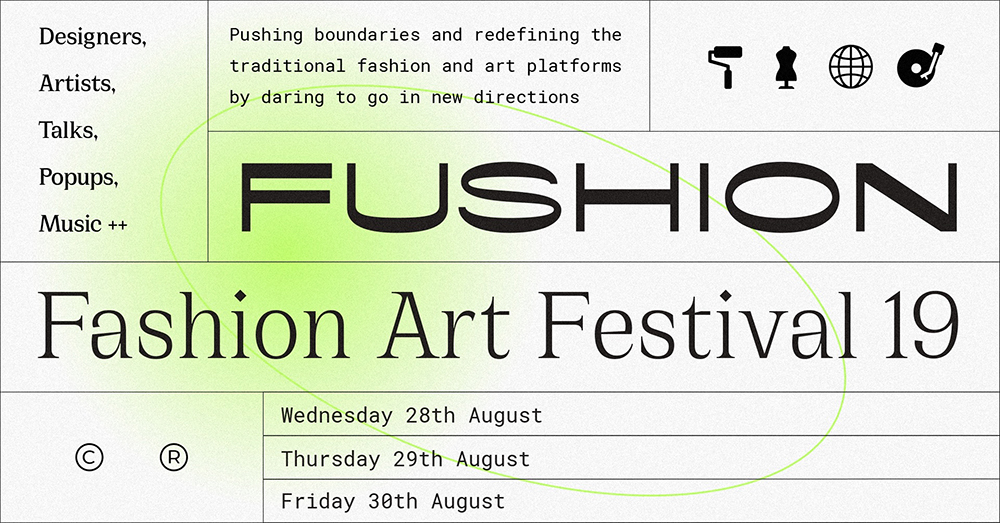 Getting closer to these brands, it is clear that "slow fashion" is a core value to the process. Contrary to many American brands aspiring to become largely mainstream, these designers are very comfortable scaling slowly and staying small. They value handcraft, traditional draping, pattern, and construction methods while focusing on the creative process that sometimes escapes time and action calendars. The attitudinal "Slow Futures" macro-trend forecasted by WGSN S/S 2018 is gaining momentum as young designers rethink the industry.
While "fast fashion" speeds on, attitudes toward "slow fashion" may be similar among young American designers. Last year, I sat with Michael Fink, Dean of Fashion at the Savannah College of Art and Design (SCAD). Fink told me that there is an entrepreneurial spirit among graduates that is distinctly different from my generation of alumni.  We dreamt of becoming head designers at big fashion houses, many of which are now rapidly downsizing. This new generation has a DIY start-up mindset. Fink went on to explain how his students are launching digital platforms, collaboratively working with their peers across textiles, accessories or jewelry design and creating holistic lifestyle brands before they've even graduated. They've honed their social media influence through their crowd of fashionable friends and are mastering influencer commerce right out of the gate.
Similarly, in Oslo, it's fashion industry is being redefined at the street level by young designers like Ingunn Birkeland. With a ground-up, grassroots approach to personalization, craftsmanship, and design as a service, small could be the new big. I was impressed with the scope of creativity Ingunn Birkeland has to offer including a collaboration with Røros Tweed, a Norwegian legacy textile, soft goods home and hospitality brand. Our interview highlights the creative process of discovery and iteration as well as concerns surrounding manufacturing and consumer values.
About Ingunn Birkeland Oslo (IBO)
Ingunn Birkeland Oslo (IBO) launched in 2005 after the designer graduated with an M.A. in fashion design from the Oslo National Academy of Arts. An Oslo Runway alumni, the designer has also shown at New York and Berlin Fashion Week. Her designs are truly works of art and sit among the private collections at the National Museum in Oslo, Nordenfjeldske kunstindustrimuseum in Trondheim and Kode in Bergen. While the brand is distinctly Norwegian in values of quality and craftsmanship, the aesthetic is opposes minimalist. Her color pallet and silhouettes are a feminine rebellion of the unspoken Norwegian "law of Jante," the ideal behavior that the individual should not stand out. Birkeland has explored various media with her techniques, such as shoes, jewelry, purses, ties, art performances, installations, and wall pieces. Her penchant for art and diversity led to a collaboration with Røros Tweed and a collection of soft good textiles for home and hospitality. It was this diversity of creativity that sparked my curiosity and provoked the following interview.
Interview with Ingunn Birkeland:
GD: Tell us about your experience at Oslo Runway and how it's helped you launch your brand.
IB: I launched my brand in 2005. For several years I showed at Oslo Fashion Week, and last year I took part in Oslo Runway with an external show (not at the ORW arena). I work more artistically than commercial, so I don't show every season, not even every year. When I have something to show, I do, but I sometimes chose different ways to do it as exhibitions, performances, and installations instead of a regular fashion show.
GD: Where do you see the IBO brand going in the next 3-5 years?
IB: I am very happy at the moment. I, of course, have plans and wishes for the future, but I am also very happy to continue working as I do now. I think it is unhealthy to have a constant need to expand.
GD: You have your hands on many creative areas, clothing, jewelry, shoes, art, and installation. How have you managed to grow in these areas and what does art and fashion fusion mean to you?
IB: I don't make shoes anymore, or at least not at the moment, as I like to put it. The shoe collection was produced in Spain, and it became too hard and expensive for me alone to manage. I am really glad I did it though, because I learned a lot, and got to make lots of unique shoes. Now I focus on production in Norway. My enamel jewelry is handmade in Oslo, and all my dresses are made by me in my studio. It's slow fashion.
GD: Color is such a unique part of your work. Tell us how you continue to play with color and keep it fresh season after season as your signature.
IB: I have my own subjective palette of colors that I have come to and use only with small adjustments over the last 20 years. I probably get influenced by trend colors, but it's never my intention to follow them. I don't use colors that are not compatible with my own palette. I work intuitively when choosing colors within the scale, balancing pastels and signal colors as well as warm and cold tones.
GD: I love that you collaborated with Røros Tweed. Tell us how that came about.
IB: I have known their blankets since I was a child, I think most Norwegians do. I imagined my patterns on their blankets and thought it was a good idea to cooperate. So I asked them, luckily for me they thought it was a good idea too. It has been such a great experience to work with them.
GD: I loved the gowns you made of the blankets that were shown at Oslo Design Fair (an interior design trade show widely known in Scandinavia). Are those strictly art pieces or can they be worn and are they for sale?
IB: Those are just for show to illustrate the meeting point between Røros Tweeds blankets and IBO dresses.
GD: You have a strong background in art and handcrafts. How does this drive your unique collections? Please share a little about your creative process and how you develop some of your techniques, treatments into a full collection.
IB: I was taught by my mother and grandmothers from an early age to knit, sew and weave. That is the foundation in all my work. I love to use or develop time-consuming techniques. Not because it takes a lot of time, but if it does, I usually get the most interesting results. I don't plan the whole collection from the start. I do tests in fabrics and model directly on the bust. I can sketch if necessary, but I prefer to skip that part. I usually start with one dress or piece, and then the rest of the collection is made based on either that technique or colors. After having made some pieces, I do some very quick sketches of different outfits to get an overview. My favorite part of the creative process is in the beginning when I see that this small test will be wonderful when made bigger.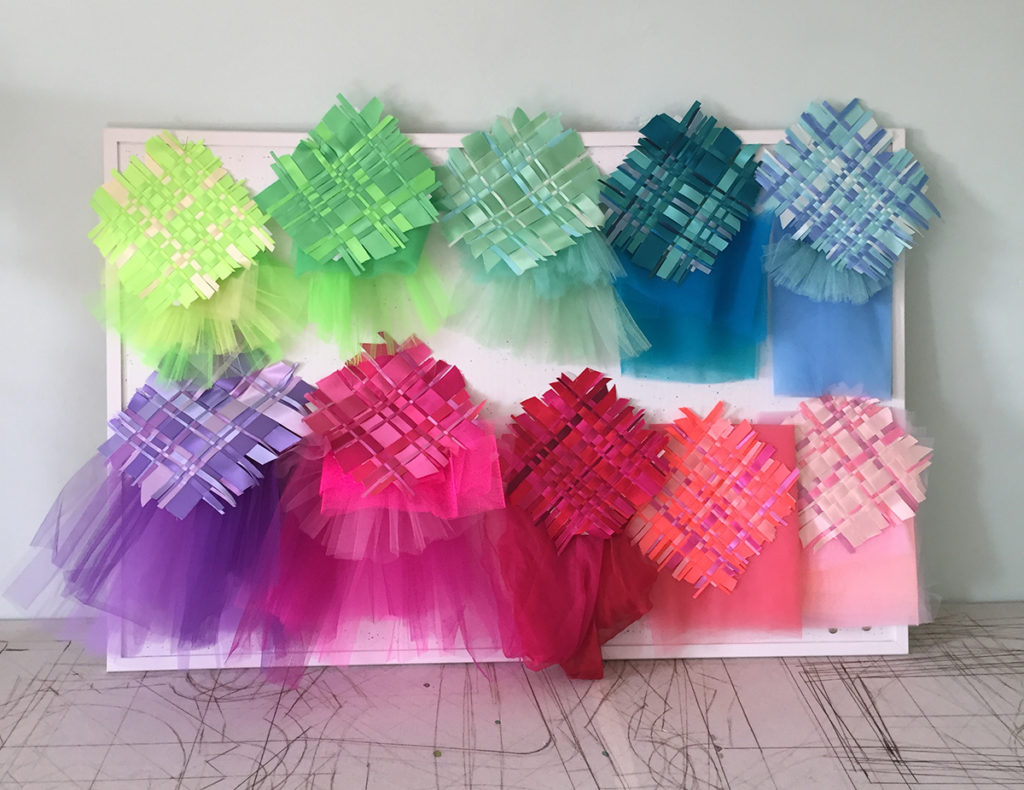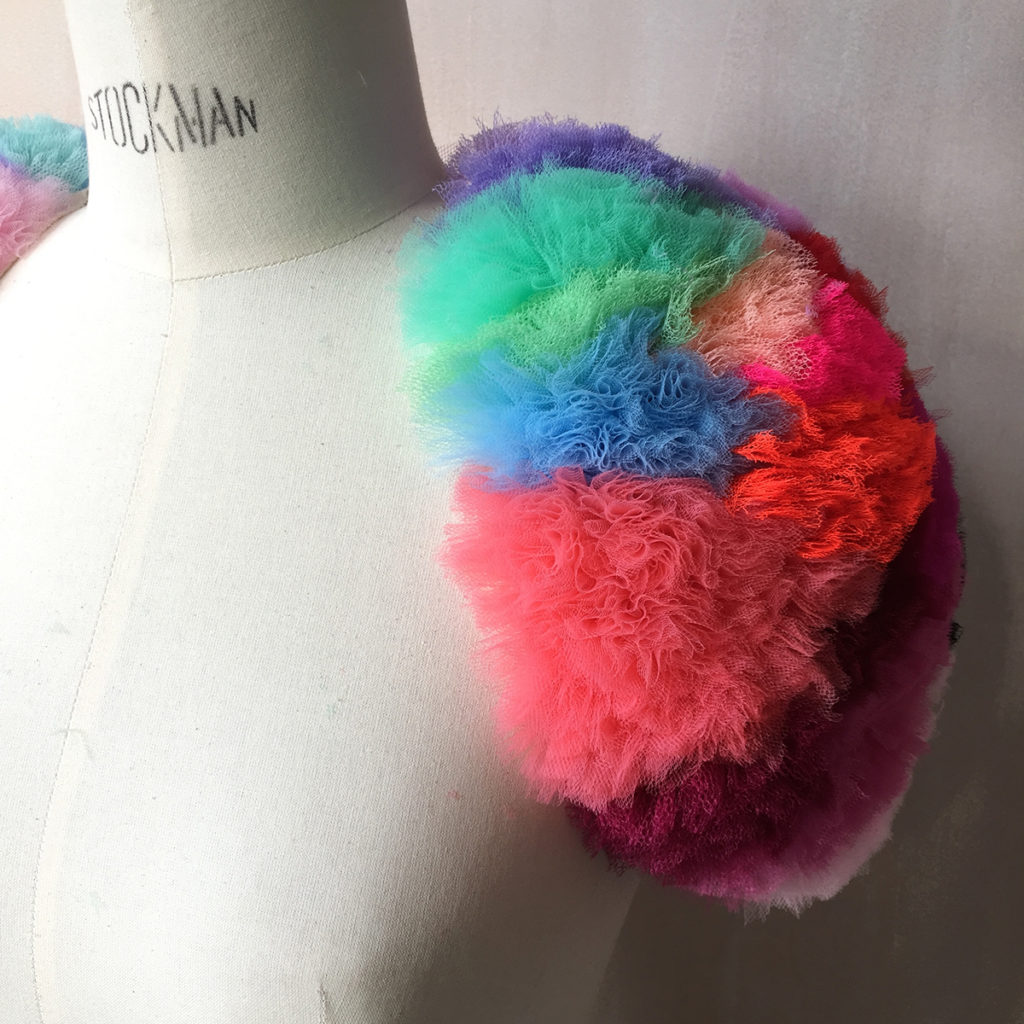 GD: Do some treatments end up too expensive to produce beyond sampling? If so, how do you work to incorporate them in other areas or develop a manufacturing process to make them accessible?
IB: Much of my designs are expensive showpieces. I make them as art, it's not about the user value at all. Some are bought by The National Museum and other museums in Norway, and some are worn on the red carpet and to exhibitions. I think these showpieces are important to make to inspire customers and also myself. This is one side of my work. The other part is when I make bespoke dresses for customers. These are simpler and much less expensive dresses in a wide range of the same colors that I use in the showpieces. You maybe think that there would not be a market for this nowadays when you can buy everything everywhere, and online. What I think people miss is the part where they feel taken care of. I make them something that is perfectly fitted for their shape and need, and they have to come to my studio three times for fittings. That way I get to know them a little, and this is important to make them what they want. They get a dress that makes them feel good and can be used for many years.
GD: What do you hope customers will experience or value about your collections?
IB: I hope it is a visual inspiration, and that it makes them want to take care of all their own garments and textile as well.
GD: What is special about Norwegian design and how do you plan to scale that globally with your brand?
IB: I am not sure, and I don't think my work is typically Norwegian. My use of color is not that common here. I don't plan to scale globally, but I am happy to show outside Norway from time to time.
GD: What part of the production/manufacturing process do you feel needs to change and how would that change benefit the fashion industry?
IB: There is so much that needs to change in the fashion industry. There is too much clothes in the world. I think we need regulations of production volumes from the governments, but most importantly we need to make a change of values where people want less and buy quality. It is absolutely necessary.
GD: Name 3 core values in your creative process affecting your collections and how do those translate into the physical garment.
IB: Colours. Time-consuming techniques. Redesign.
https://garrottdesigns.com/wp-content/uploads/2019/09/Ingunn-Birkeland.jpg
786
1200
Garette
https://garrottdesigns.com/wp-content/uploads/2022/03/GarrottDesigns-Space.png
Garette
2019-09-30 15:16:46
2019-10-01 10:44:28
Slow Fashion: An Interview with Ingunn Birkeland Oslo