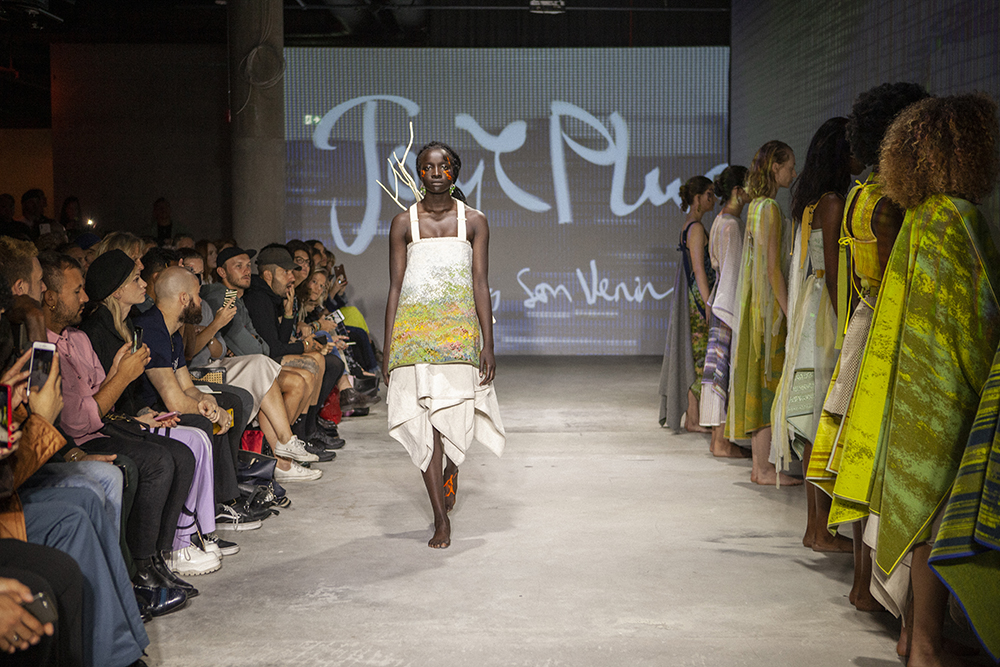 Oslo Fushion Festival: Art, Music, Fashion and Sustainability
Norwegian Design: Tradition + Innovation
It's the season of fashion week in New York City and abroad. For years now, there have been conversations about the relevance of fashion week, the evolution of the runway shows, retail, commerce and even the structure of the business of fashion itself. Keeping fashion week alive and real is both a fast-moving target and a big mountain to move as this global industry scratches it's head with eyes turned toward the future. Which is why I found Oslo FUSHION to be so refreshing and inspiring.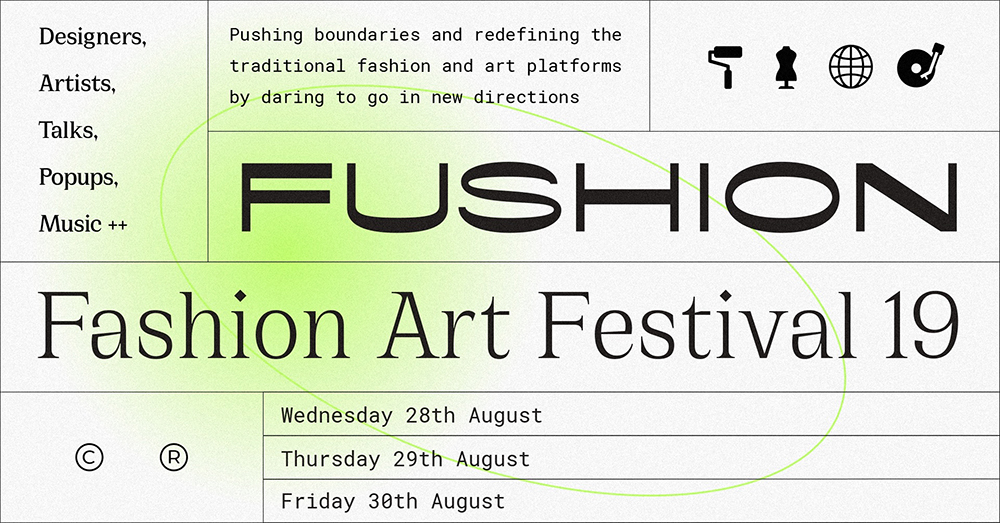 In its infancy, only 3 years operating as Oslo Runway, Oslo FUSHION Festival is the result of Oslo Runway, Norwegian Fashion Hub, Olso Art Collective and several industry entities merging to create one powerfully supportive force facilitating art, music, fashion, and commerce.  While this tight and lean start-up version of fashion week has it's organizational challenges. What's exciting about it is that it's authentic, iterative, street level and owned by its community of creators. For this reason, what's shown is worthy of discovery, investment, and attention.  Here are a few of my initial thoughts on the experience and a case for FUSHION to serve as a model of innovation.
About OSLO FUSHION
FUSHION's mission is to create new commercial opportunities and innovation, spanning sports, retail, sustainability, environment, customer service, and shopping experience through art, fashion and music. Its unique method is inspired by the music festival By:Larm creating an organic space that democratizes the fashion week experience.  It's flexible format evolves with the changing currents of design, retail, consumers, culture, and commerce.  It is a cultural shift pushing boundaries and redefining the traditional fashion runway and art platform by daring to grow in an organic new direction.
From what I saw, FUSHION is opening intimate dialog between designers, artists, buyers, customers, press and industry forming the new frontier of fashion and art today. Their newfound freedom lies in the ownership of its community and members as operational informants catalyzing change. The format is fluid and defined at the source of creativity. By design, FUSHION questions the traditional structures, authorities and media by throwing the doors open to creators at the street level. For this reason, FUSHION has the potential to be a global platform of discovery and incubation for innovation that is steeped in the currents of now. FUSHION is relevant because it is not staged but fluid, informed by collective ownership of creative influence giving voice to the currents of now, new and next.
Values in Nordic Design
It's no wonder we are looking toward Nordic and Scandinavian countries for design solutions in today's turbulent economy. There is a need to adapt to fast-changing consumer patterns, sustainability, accessibility, circular economy, personalization, and technology. Many of the concepts that permeate today's problems have been core values of Norwegian culture from the beginning.  Natural materials, living in harmony with nature and the environment, sustainability, utility, durability, and long-lasting quality are functions of Norwegian design. While Norway is future-minded in areas of energy and technology it also values traditional handcrafted products that are beautifully functional. Norwegian fashion has its roots in handcraft and utility. However, today's emerging artists and designers are global-minded and self-aware. This new generation is adding personal expression to simplicity and applying technology to further sustainability. Oslo, the city itself is at the forefront of development with a bustling new economy and refugees seeking freedom and self-expression. Olso and its fashion industry are an up-and-coming hub for inclusivity, discovery, and innovation.
The fashion brand Avenue is a perfect example of a new generation moving tradition forward with mindfulness, self-expression, and technology. Husband and wife duo, Gustaf Gyllenhammer and Ingvild Abrahamsen showed their first collection in 2015. They grew the brand from Gustaf's family-owned textile company. Informed by several generations of textile production as well as their background in music and design, the collection is specialized in high-quality garments made of natural fiber that are sophisticated yet suitable for everyday comfort. The collection shown during FUSHION at the historic Villa Stenersen Museum was inspired by communication in a digital world and the pending obsolescence of paper and print. Key pieces utilize A1 and A5 paper sizes printed with text to express their perspective on physical and digital communication. Sustainability and quality remain core values to their inspired collections.
 The Problem of Sustainability
While sustainability is a global conversation pointed at the fashion industry, its practice is complex and full of challenges both in decision making and execution. In the U.S. our current economy is largely supported by massive consumption. It is a big engine to feed and dangerous to disrupt. Rapid consumer shifts of values causing change and lost sales would bring the economy to a grinding halt. It's not that sustainable efforts are impossible, but it must be navigated deliberately from the industry outward. The U.S. has done it before, however. After the Great Depression, the social message was "Mend and Make Do" which carried into the recession of the 80's. I recall as a child, my mother sending my Great Grandmother boxes of socks for her to mend for my family of 8. The idea of mending socks instead of just buying new ones is absolutely laughable by today's standards. Rightly so, time is more valuable these days and socks are very cheap. Convenience is a virtue and time is precious. As the Copenhagen Institute for Futures Studies pointed out in their consumer report, "Sustainability MUST be convenient."
Another challenge is that we cannot agree on what IS sustainable. For example, some argue that livestock based goods such as leather from cow, sheep or pigs are sustainable. Their argument that virtually the entire animal is used for nutrition resources and products such as leather goods last a long time but are biodegradable. Others would argue that livestock takes a toll on the environment and slaughtering animals for consumption is unethical and unsustainable. There are many positions to take across areas of sustainability which make it hard for organizations, consumers and legislation to confidently move towards an objective. Pair that with financial interests and lobbying and well, you get the picture of why sustainability is a challenging initiative.
In Norway however, the ubiquitous social message is to buy less. Its people look to buy quality items that last a long time and are truly functional. Being in harmony with nature ensures that animal-based products are produced holistically with concerns surround the environment and consumption. This virtue is baked into the culture as they value an unencumbered lifestyle that works in harmony to the environment and nature. Even while the discovery of oil in the 1960's has transformed Norway to one of the wealthiest countries, they still feel a pressing need to invest in innovative forms of energy. They've even placed a timeline and limit over the amount of oil they will take in an effort to motivate and stimulate this initiative.
Likewise, the fashion industry has a fundamental problem in systems and operations that would have to be reinvented in order to disrupt the big system of consumption and waste. There are plenty of articles on this topic. For the sake of this article, suffice it to say, we can look to Norway's developing fashion industry as a model with these values already in place, the money to invest and the innovative youth to drive them there.
Cathrine Hammel's Urban Farmer collection at FUSHION was a conceptual immersion demonstrating fashionable sustainability in an urban setting. The collection reflects the Nordic way of living and its' democratic ideas toward gender equality, a sustainable approach to the environment, social cohesion, and values of work-life balance. The brand recognizes quality and durability as the most sustainable approach to fashion.
Art and Sustainability
It can be difficult to asses the value of art in the context of global climate change and sustainability. However, Norwegian artists are exploring ways to express and contribute solutions to the cause. The Klimakunst exhibition included several artist installations across events as well as a group of DJ's spinning at an artful afterparty. Klimakunst is a sustainable showcase of art and music with a mission to remove the boundaries of purchasing art and attending events. Part of their income is used in an effort to reduce climate waste by purchasing emission permits and investing in UN-Certified climate projects.

Art + Fashion, Synergistic FUSHION
The FUSHION Festival is timely and of the moment exactly because it is bringing together all the disciplines that inform fashion, but have been kept separate by institutional protocol. Un-siloing the arts and providing fertile ground for collaboration is catalyzing to the future of fashion. Because Oslo FUSHION is owned by industry and community members, it has the potential to become a holistic resource for discovery, incubation, and innovation with rippling effects from the local market to inform a global economy. Here are two examples of collaboration and fusing sustainability, tradition and modern design that caught my attention.
Tonje Plur
One of my favorite collections from FUSHION was Tonje Plur. The collection serves as a perfect example of traditional handcraft and textiles moved forward with a youthful expression and perspective of the present time. Tonje Plur is a recent graduate from Oslo National Academy of The Arts with an MA in 2017. Her first collection showed SS2019 at Oslo Runway. Seeing her latest collection "As You See It" shows promise and tells me that the festival is mining fresh, progressive talent and is a great place to discover resonating new perspectives.
Ingunn Birkland X Røros Tweed Collaboration
I was also excited to discover a cross over between interior design with fashion. Ingunn Birkeland Oslo (IBO) is another Oslo Runway alumni and graduate from the Oslo National Academy of The Arts. IBO was not showing at FUSHION this year. The former Oslo Runway designer was exhibiting a collaboration with Røros Tweed at the Oslo Design Fair (interiors) in Lillestrøm. I love this collaboration not only because Røros Tweed is a client of mine and I adore their products. But also, because IBO's penchant for textiles, color and thinking out of the box created this fascinating collaboration and exhibition. Røros Tweed's woolen textiles are sustainably made in the heart of Norway using traditional techniques. They partner with artists and designers to create meaningful, beautiful and lasting soft goods. I was excited to discover IBO's collaboration by investigating sustainability in design through FUSHION.
Inclusivity, Diversity, and Inclusion
Inclusivity is another global topic affecting fashion in product assortment as well as advertising. As refugees seek new homes free of oppression and violence, Oslo has become a safe space for immigrants to express themselves through fashion and art. Recognizing this shift, FUSHION is opening new conversations, awareness, dialog, and expression.
Artist Ahmen Umar, a Norwegian/ Sudanese visual artist based in Oslo performed a stunning piece based on a Sudanese proverb. "If you no longer have a family, make your own with clay." The proverb states that a person made of clay is better than the flesh and blood that hurt you. Replacing those who have hurt you in this way can be a cathartic healing process of purging oneself of grudges and allowing forgiveness. As native to a country where the death penalty for being gay is a real threat to one's family, having rid himself of his own traitors, he is able to inspire others through his workshop. Umar developed the project into workshops where participants are invited to create their own figures of frustration. Hundreds of these clay statuettes were made throughout the years and across many countries.
Take-Aways for International Interest in Oslo Fushion Festival
The immersive, experiential concept that is Oslo FUSHION is a delightful spin on fashion week that could inspire new relevance. FUSHION is iteratively opening an ever-evolving format, keeping the idea of fashion week fresh because it is informed by the creative community itself. By democratizing to the street level, catalyzing unlikely collaboration, and incubating fledgling talent it could develop an inclusive, diverse global resource for discovering talent. While the format has its challenges, it is also disparate to an advantage because it is loose, expansive and expressive.  The organization has already fostered brands that have moved onto larger pastures and owe its successful launch to Oslo Runway. While it makes sense that these brands continue to flourish in larger venues, FUSHION must continue to support the emergent brands and artists to grow as a resource for the fresh and new. Oslo FUSHION has the potential to become a holistic resource for discovery, incubation, and innovation with rippling effects from the local market to inform a global economy.
To further the big picture, FUSHION may have the ultimate potential to achieve global influence by conceptually combining the likes of shows such as  Frieze Art Fairs, Art Basel or SXSW with Fashion Week in an inclusive experiential setting that combines all forms of art and expression centered around fashion.  In 2019, FUSHION has curated a community-driven experiential venue that is engaging through interactive pop-ups, exhibitions and city-wide events evoking a sense of culture, inclusivity, sustainability, quality, and creativity. FUSHION needs international support in order to scale to this degree. However, scaling at the level of incubation may be where it will retain the most value and be uncontested on the global stage.
https://garrottdesigns.com/wp-content/uploads/2019/09/FushionTonje-Plur-Kat-Gade-2.jpg
667
1000
Garette
https://garrottdesigns.com/wp-content/uploads/2022/03/GarrottDesigns-Space.png
Garette
2019-09-10 13:38:13
2019-09-17 07:24:02
Oslo Fushion Festival: Art, Music, Fashion and Sustainability