How to "Bill Murray" a Brand
What if Bill Murray served you Kung Pao Chicken during a three-hour layover at the Atlanta airport's P.F. Chang's. "No one will ever believe you," but it could happen! According to CNN, Murray filled out an application at the Atlanta airport location last week. Later, he told Amy Schumer on her podcast, 3 Girls 1 Kieth, "it looks like the best time."  With all the random, beloved legendary stories shrouding Bill Murray encounters in myth and urban lore, I can't help but think about how brands could do similar things to amaze and delight customers.
Building a narrative around origin and identity through brand mythology can move the needle toward consumer perceptions of premium. What does it take for a brand to be shrouded in legend, loved by all and mystically regarded as something god-like? I found some good answers to this question on Netflix.
Have you seen the documentary "The Bill Murray Stories: Life Lessons Learned from a Mythical Man?"Check it out. Having watched it twice, the film gave me a few ideas as to how brands can develop memorable experiences by shifting the company's mindset and approach to creating unexpected adventures with everyday people. Think about it, aren't branded engagements everyday adventures that surprise and delight everyday people?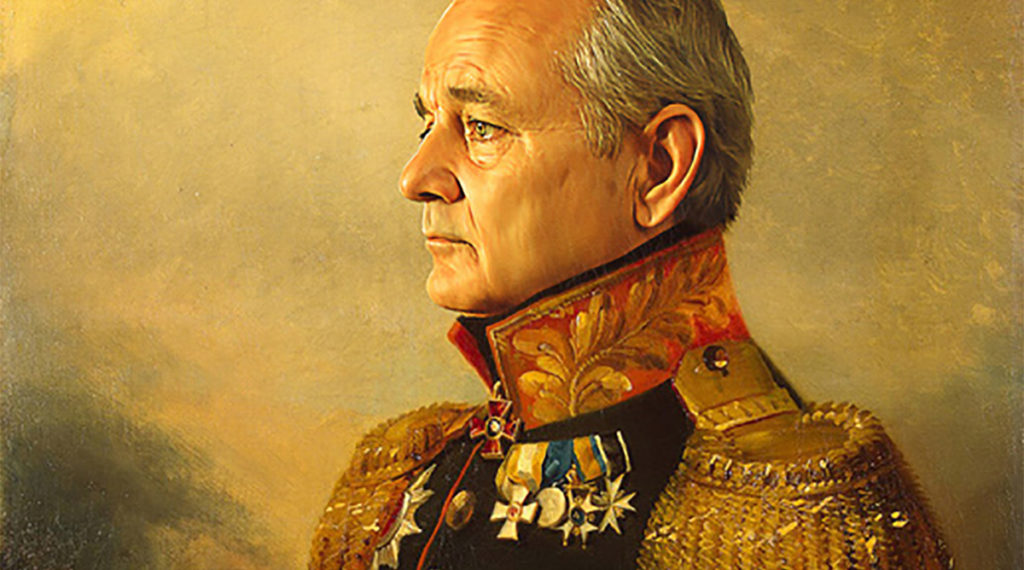 In the documentary, Director Tommy Avallone sets out to discover if the legendary stories of Bill Murray doing random acts of ordinary things with ordinary people, are true. Bill Murray has a 1-800 number that he randomly checks and sometimes responds to intriguing inquiries. Failing to catch Bill Murray's attention after leaving several voice messages, Avallone decides to collect testimonials from witnesses of such acts. Turns out, the legends are true. Bill Murray showed up at a house party in Scotland and was discovered washing the dishes. Separately, at a house party in Austin, Texas, Murray took on the role of a common band roadie and helped unload equipment into the house. He then took up the tambourine at the back of the band, jamming along. Eventually the police show up to quiet the band but Murray invites them in, and the party never gets shut down. He's read poetry to construction workers on a worksite, tended bar at a dive in Austin during SXSW and joined a kickball game with strangers at a random park.
In all these cases, Murray doesn't make it about him, signing autographs, giving high fives and bidding adieu. He shows up in ordinary situations, blends in and creates surprising, memorable moment. He doesn't publicize it. The people he touched tell the story and the story becomes legend. Pretty remarkable right?
Clues bubble up in Bill Murray's reason for surprising strangers. It comes from his comedy training in Improv at Second City in Chicago. Improvisation is an acting method in which a performance is unplanned or unscripted. The dialogue and actions are created spontaneously and collaboratively by the players using a "Yes and…" approach as the story unfolds in present time. Improv has also been used as an educational tool and in businesses as a way to develop communication skills, creative problem solving, and support team-work abilities.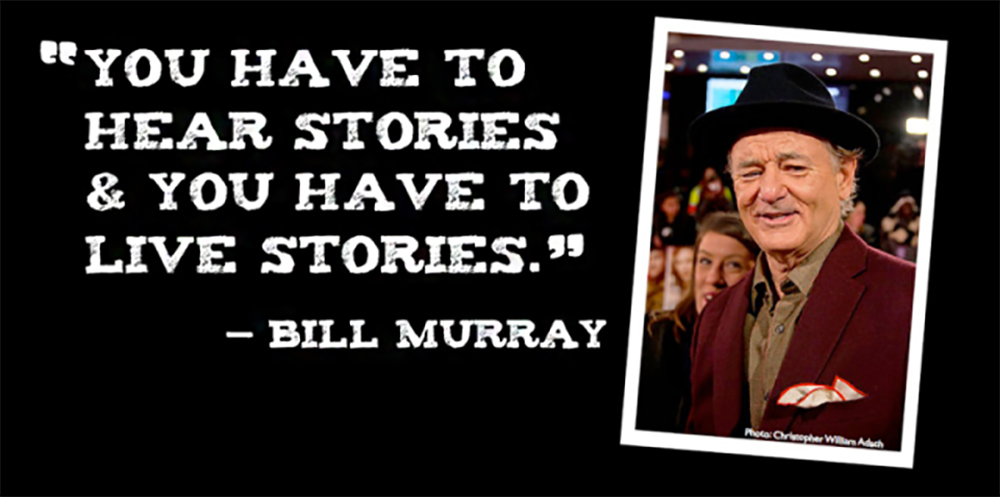 In an interview with Gavin Edwards of "Rolling Stone," Murray talks about why he does these things, "I'm not always aware of what I want people to take away from this. Sometimes I think, well, what do I want to take away from this. My hope is that it's gonna wake me up. If I see someone who seems out cold on their feet, I'm gonna try and wake them up. It's what I'd want someone to do for me — just wake me the hell up."
Similarly, Seinfeld echoes equal sentiments about stand-up in his Netflix series, "Comedians in Cars Getting Coffee." He laments with several of his contemporaries about why doing stand-up in small venues keeps him on his toes and passionate about his work. Improv and stand-up are both in the moment, conversations with an audience. It's an exchange and an exercise in being present, in the moment and engaged.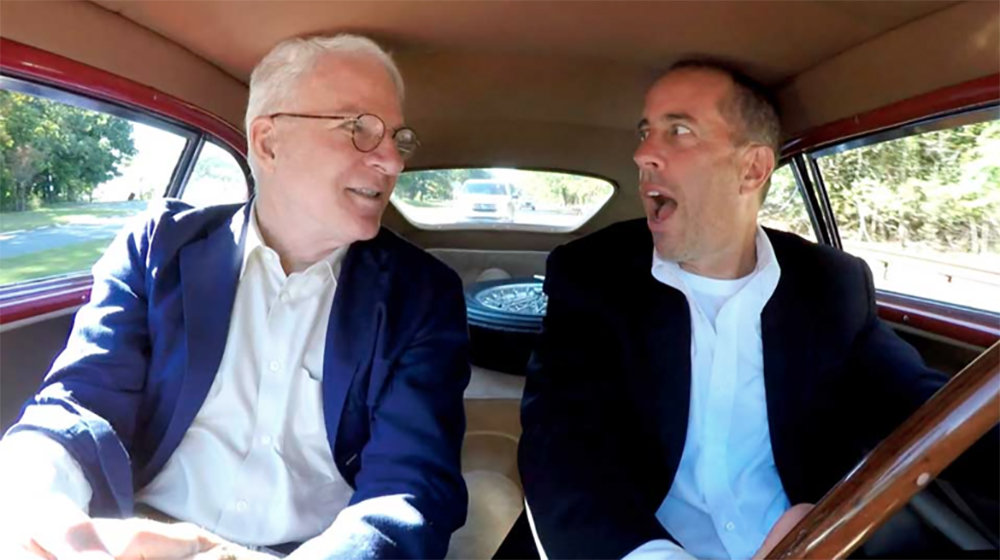 At a certain level of fame and celebrity ubiquity, perhaps brands, like famous people, need to wake themselves up along with the customer. So how can brands show up, surprise and delight consumers without stamping their logo all over life's stage?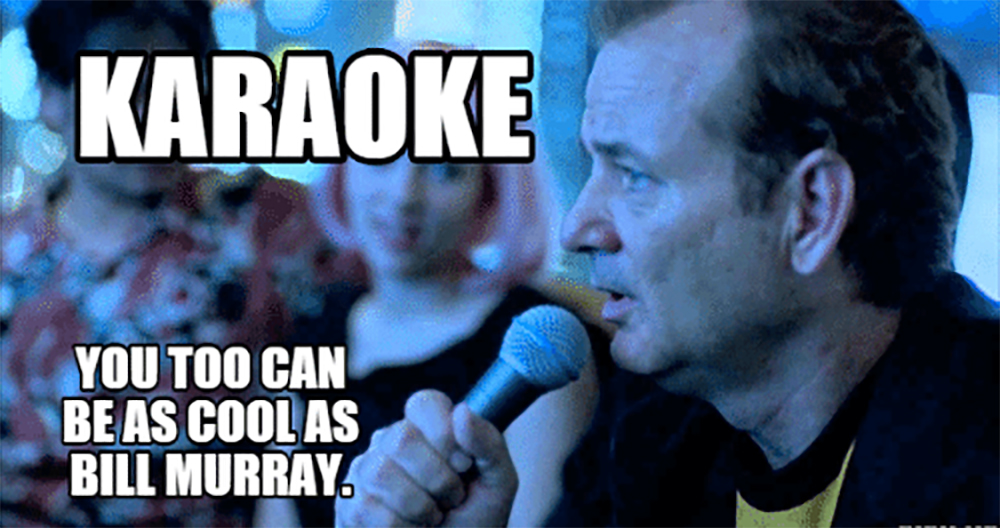 Here are four ways to make your brand more like Bill Murray:
1.) Improv. How can your brand show up where the customer is and say "Yes and" to their story and who they are?
At The Design Gym in New York City, the team holds workshops incorporating Design Thinking techniques with Improv to come up with unique solutions to business problems.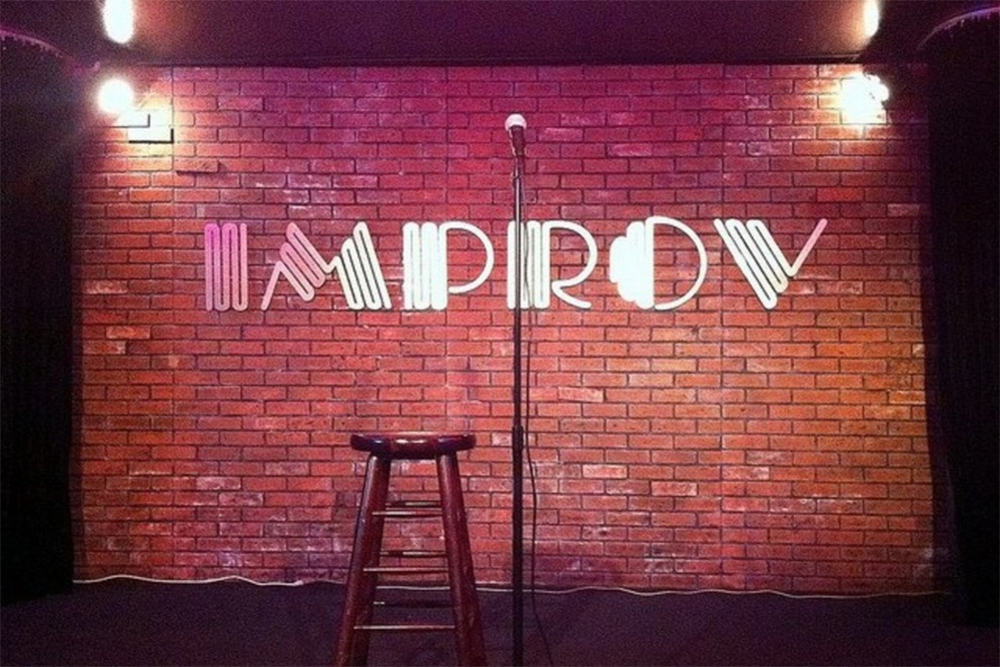 By following your customers' conversations and being present in their lifestyle, it's possible you could strike upon an event to show up with an unforgettable solution.
For example, I was working with a client in NYC. That morning I had switched from a handbag to my laptop bag, inadvertently forgetting my wallet at home. When lunchtime came around, I noticed I had no lunch money. My client mentioned that Pret (a popular NYC deli/restaurant) probably offers alternative forms of payment such as PayPal. The woman at the counter said they only offer ApplePay. Bummer, I have an Android, no ApplePay. The woman said, "OMG you're hungry and you left your wallet at home, I'm so sorry. What did you want to eat?" Turning to leave, I passively answered that I came in for a balsamic chicken and avocado sandwich. Without checking with her manager or asking permission, she spontaneously offered the sandwich for free and anything else I wanted. I was shocked, stunned and then filled with such gratitude. She assured me it was OK and she wouldn't get in trouble, "I know you'll be back and you'll have your wallet another day." Pret's policy empowered her to say "Yes and…" to who I was, where I was resulting in a delightful moment of surprise that created brand loyalty. Damn right I'll be back!
2.) Memory Bombing. Murray does a great job of showing up where people are, blending in and amplifying the energy in the moment. He photobombed an engagement shoot and sang happy birthday to a 94-year-old woman at a Baylor Basketball game.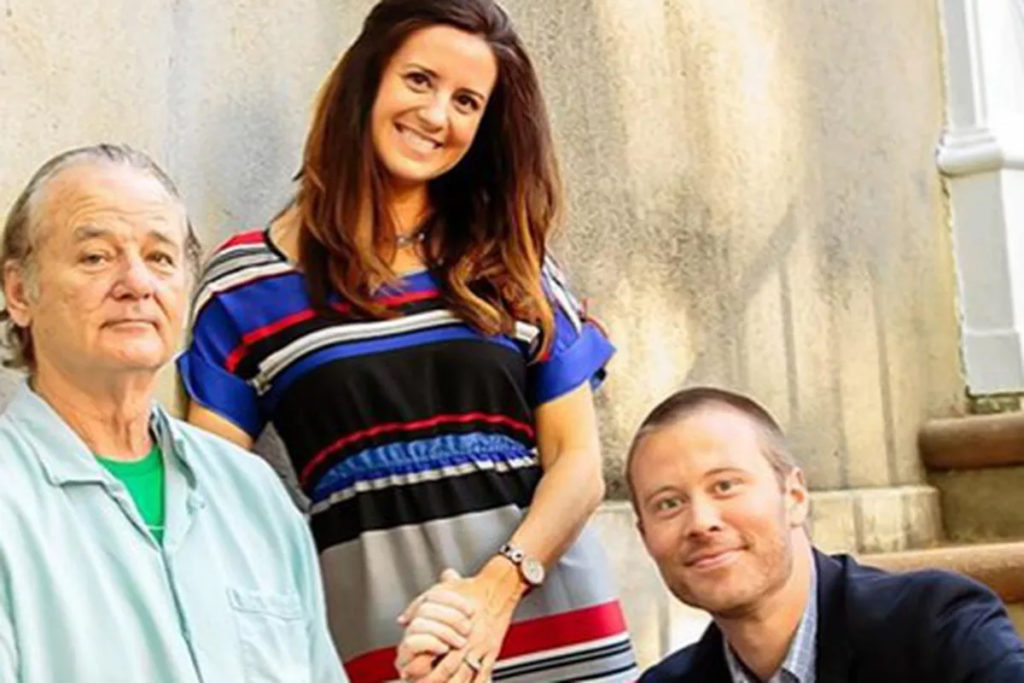 What if a brand like REI showed up at a marathon on a chilly day and started wrapping spectators cheering on the sidelines for their ambitious loved ones in signature commemorative sports blankets? No booth or press, just showed up with help and a gift for the occasion. Boom, instant lasting memories for all! And, likely lots of praise and photos on social media.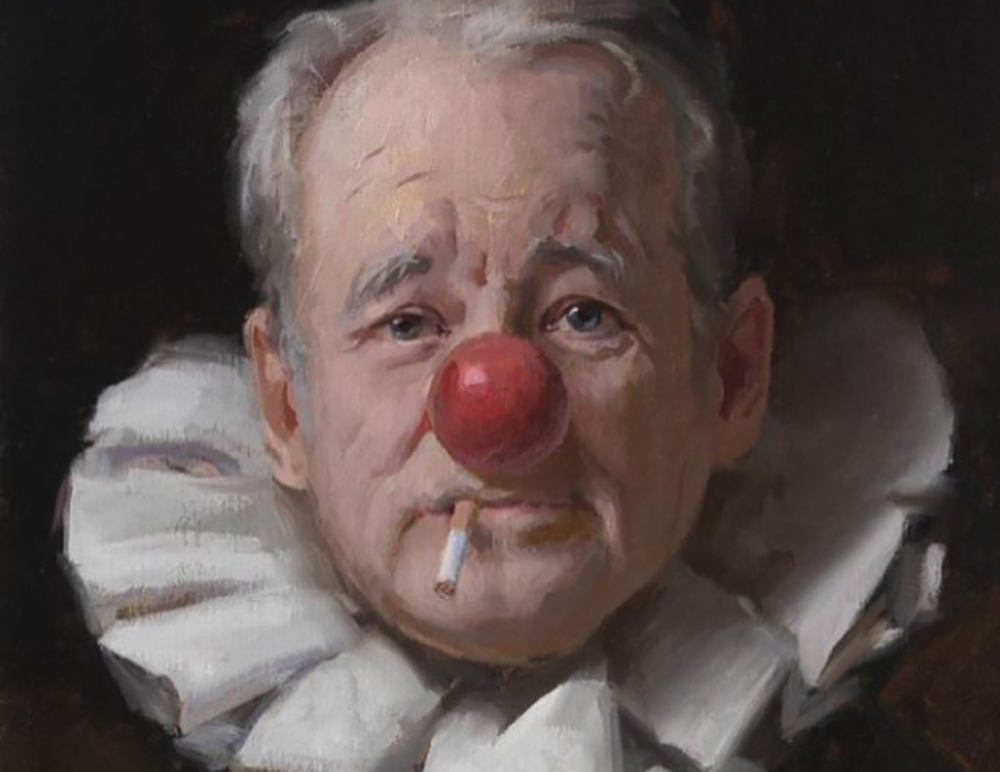 3.) Be in the Service of FUN, not self-promotion or control. We've all heard about the legendary concert Woodstock and how 400,000 people descended upon a farm in upstate New York for three days of peace, love and music. Less frequently talked about is who they hired for security. Executive Producer, Stan Goldstein considered hiring police to enforce traffic control and ensure peace at the festival but it didn't feel right.
The culture the concert meant to attract was anti-authority. Goldstein hired the most unlikely of candidates, an activist commune of entertainers called the Hog Farm lead by a man named Wavy Gravy. They flew the group in on a private jet, much to the laughter of parents and press. Wavy Gravy lead the 'Please Force' with non-intrusive tactics of keeping order such as, "Please don't do that, do this instead."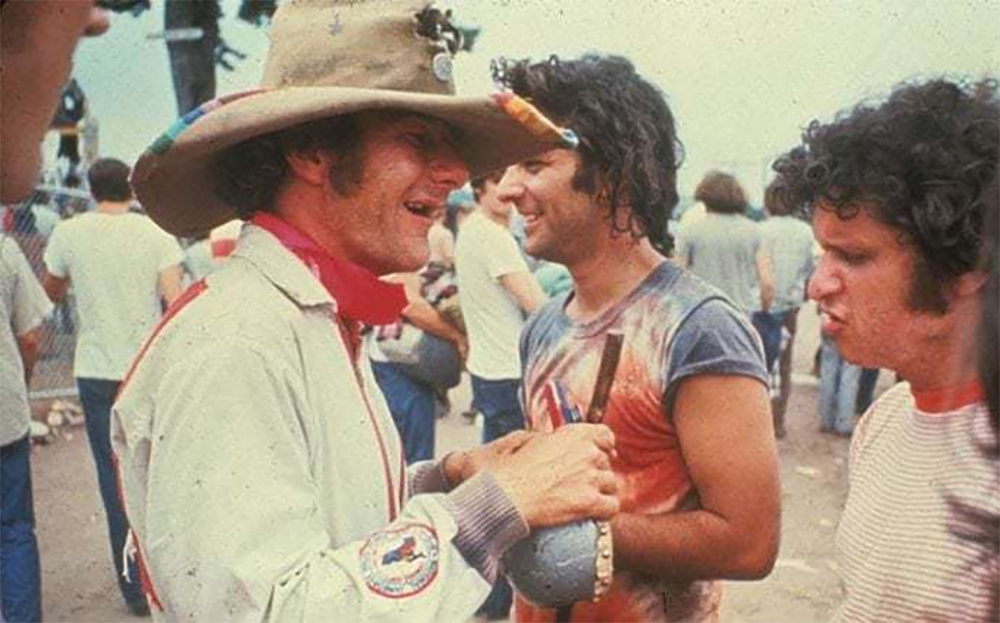 They also came to the rescue when food vendors ran out and cooked collected food donations from the surrounding town residences. Peace was kept by being in the service of fun without controlling the situation. The Hog Farm blended into the culture and spoke the language of the consumer.
4.) Pick a brand hub and build a passion partnership. Murray is known to appear often in Charleston, North Carolina. Seems random, right? Turns out he co-owns a restaurant there and surprisingly, a minor league baseball team called the River Dogs. His official title is "Director of Fun."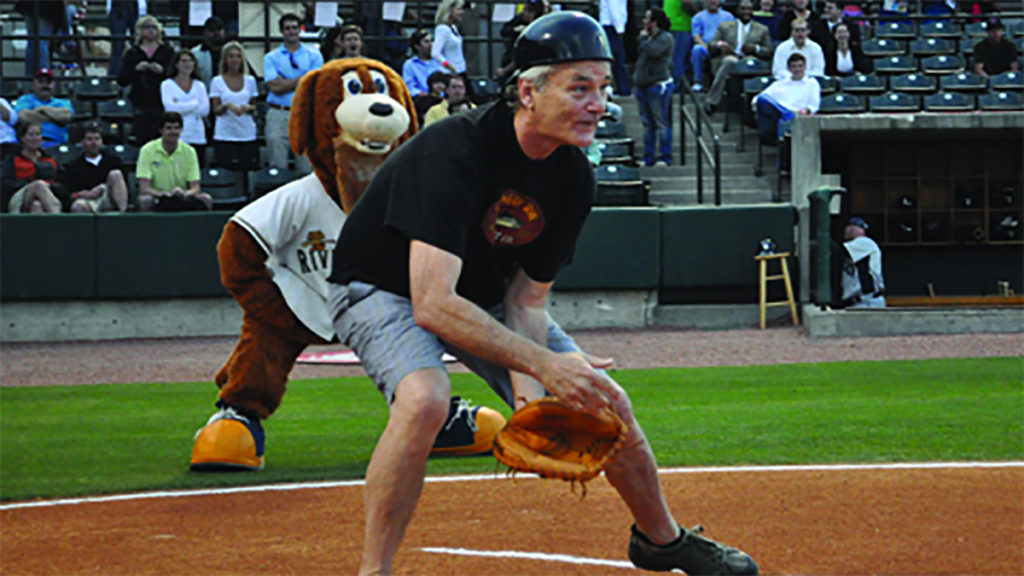 Long Island's own Blue Point Brewing Company was acquired by Anheuser- Busch (AB InBev) in 2014 but you wouldn't know it if you walked into their new brewpub space in Dumbo, Brooklyn. Blue Point developed its brand identity on coastal lifestyle and passion for the New York tradition of pairing oysters with beer. Sharing this passion, the brand has partnered with Seamore's seafood restaurant to create a unique brewpub experience that values coastal lifestyle, community, ocean life sustainability, good food and good beer. Furthering this passion, the company donates a portion of Good Reef Ale's proceeds to the Billion Oyster Project to restore New York's oyster reefs. Through this partnership, Anheuser- Busch is able to positively impact the environment, reach new customers and test micro-brewing opportunities with a beloved local brand. By partnering with AB InBev, Blue Point has an opportunity to create a social hub, extend it's community and grow loyalty through mutual interests and lifestyle experiences.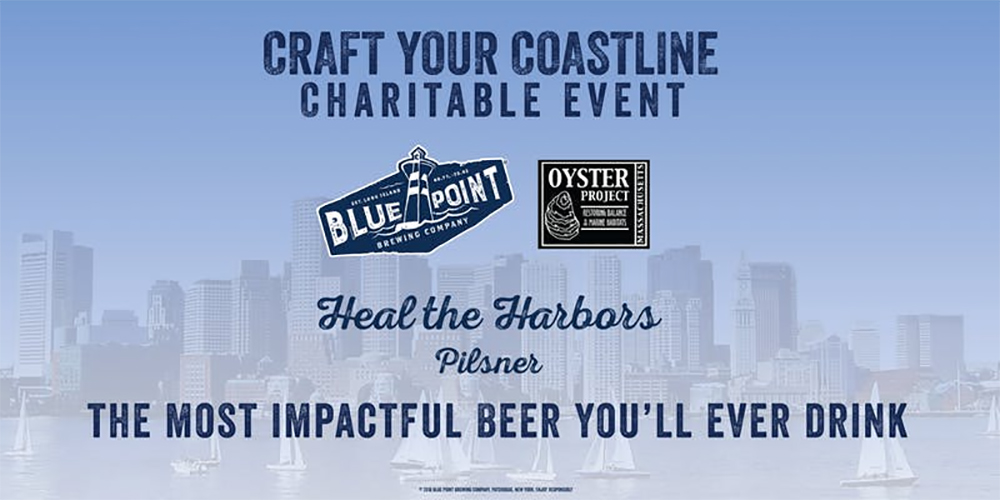 If brands approached consumer engagement, product development and social messaging with the "Director of Fun" mindset, how might they endeavor to make the everyday lives of ordinary people extraordinary by adding to their story? How can brands leave the customer whispering, "No one will ever believe you?"
Brands constantly struggle to come up with new ways to engage customers and build brand loyalty. Since content is king, experiences are golden and attention is the new revenue, staying agile and creative needs to part of team training. Brands can not only use improv ideas to create memorable customer experiences but within the company's creative team as well. By shifting the marketing mindset to be in the service of fun and using improv techniques to brainstorm strategic events the brand can serve up fresh ideas with new perspectives.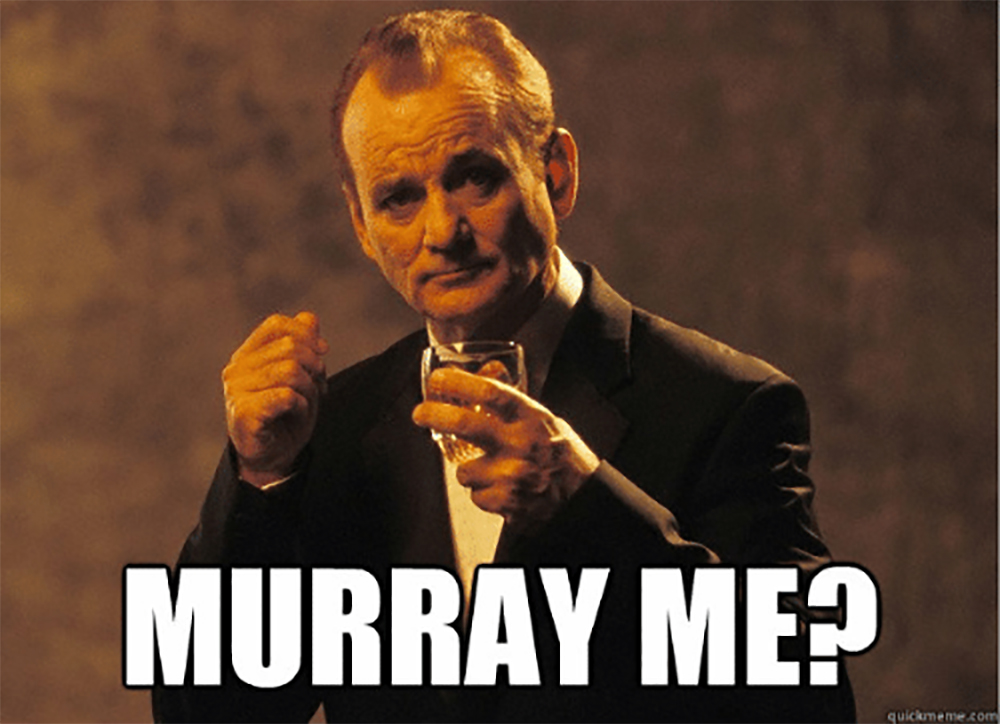 Buzzwords used to drive strategic initiatives include authenticity, discovery and inclusion. However, the very fact that brands are calculating, planning and performing control studies to prioritize effectual tactics may be part of the problem. Playing strategy closer to the chest and opening opportunities as they unfold in real-time could be a key move brands can make toward consumer perceptions of brand mythology and sense of premium.  Perhaps the next thing we'll hear about Bill Murray is that he's been shucking oysters during a stand-up comedy bit at The Hull in Dumbo, Brooklyn. I'd totally believe it!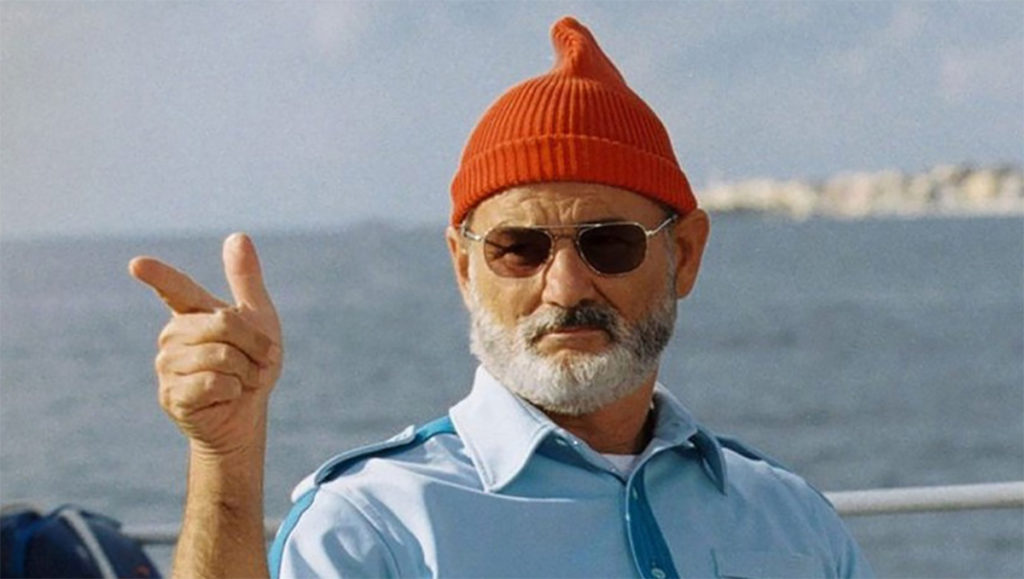 https://garrottdesigns.com/wp-content/uploads/2019/11/Youre-awesome-3.jpg
705
1000
Garette
https://garrottdesigns.com/wp-content/uploads/2022/03/GarrottDesigns-Space.png
Garette
2019-11-06 09:01:34
2019-11-26 12:34:32
How to "Bill Murray" a Brand