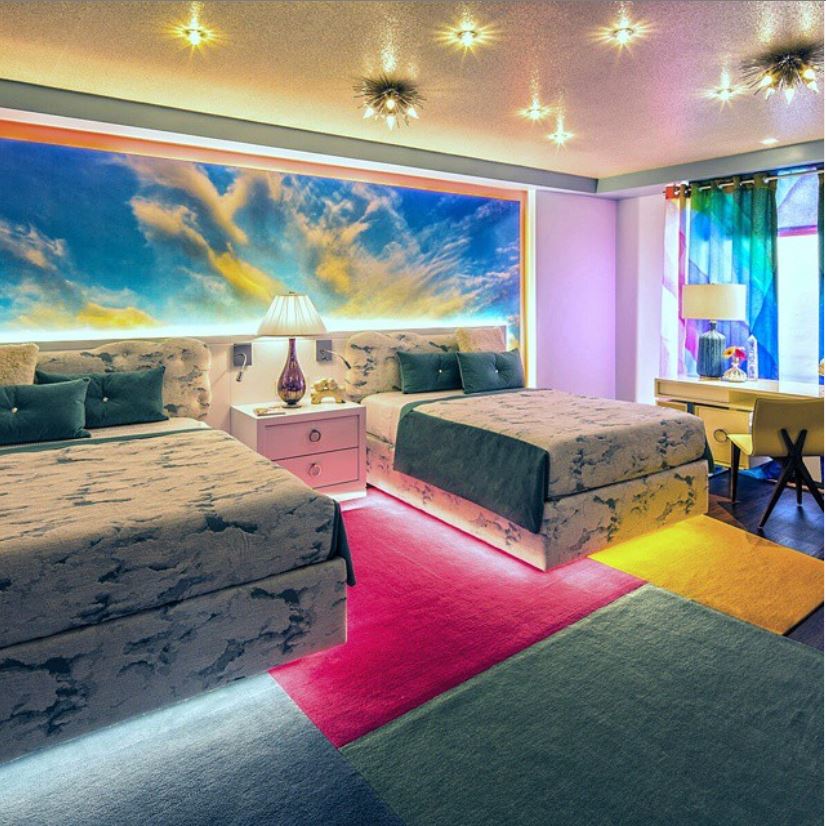 Changing the World One light Bulb at a Time
Sustainability and new energy codes were a big part of the conversation last week at New York City Build Expo 2020. The city of New York has updated local laws to cut greenhouse gas emissions 30 percent by 2030. While the new Energy Conservation Codes detail many needed upgrades, lighting design has a major opportunity for growth. For product developers, there is a huge and rapid market that needs to be served right now.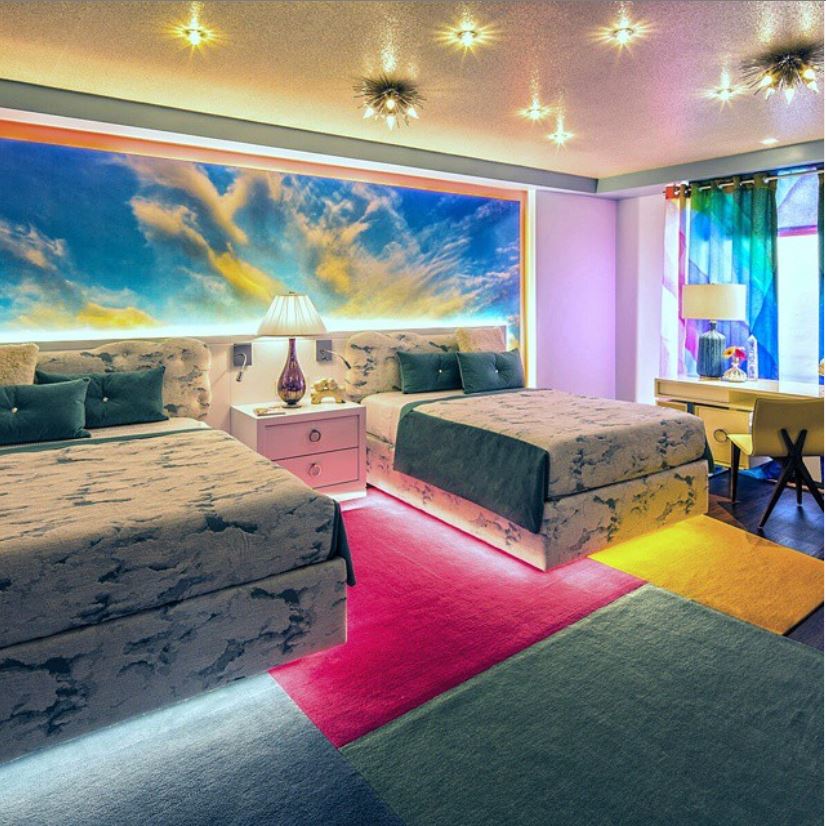 In fact, by January 1, 2025 all commercial buildings as well as common areas in residential properties larger than 25,000 sq. ft. must be upgraded to meet the new mandates. This means, new products and smart lighting systems will need to supply the market quickly.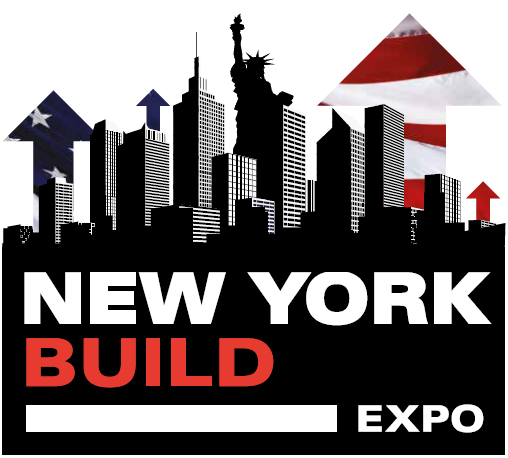 As much as compliance and logistics can weigh down inspiration, I'd like to share some insights on lighting design trends that will benefit developers, designers and property owners towards the future of greener commercial and residential spaces.
'Hospidential' is a Thing
People desire seamlessly luxurious experiences every day. The future of lighting design is emerging from hospitality influencing residential and retail. At the same time, residential is influencing the workplace environment.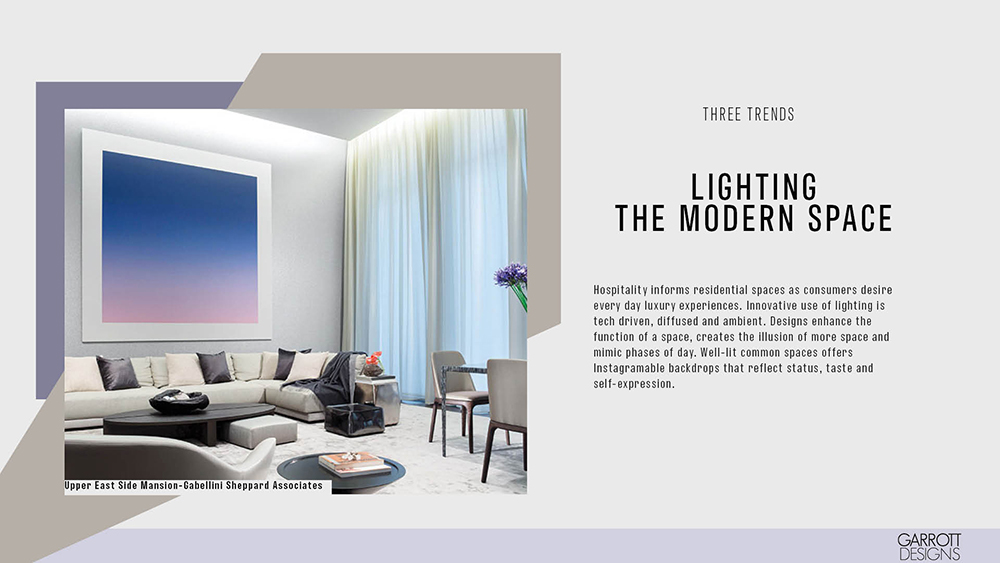 Smart home technology and innovation are driving diffused and ambient forms of lighting. LED and connected devices are energy efficient and allow versatility. Low energy consumption forms of lighting are creating the illusion of more space and mimicking phases of the day. A well-lit space offers a backdrop that facilitates multi-functional spaces, community and neurodiversity in a sensory pleasing environment.
Motivate Change with these Action Points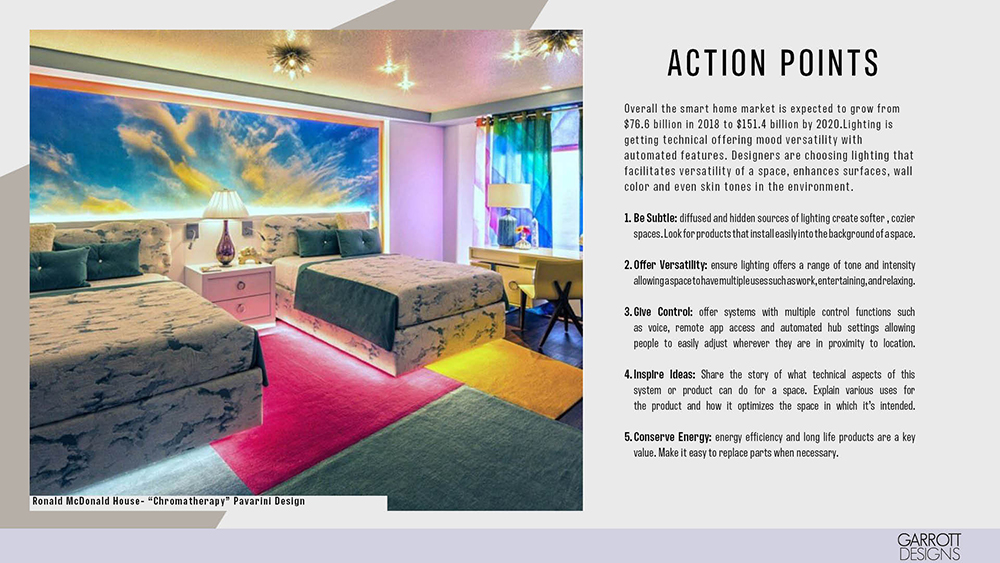 Overall the smart home market is expected to grow from $76.6 billion in 2018 to $151.4 billion by 2024.Lighting is getting technical, offering mood and versatility with automated features. Designers are choosing lighting that facilitates versatility of a space, enhances surfaces, wall color and even skin tones in the environment.
Be Subtle: diffused and hidden sources of lighting create softer , cozier spaces. Look for products that install easily into the background of a space.
Offer Versatility: ensure lighting offers a range of tone and intensity allowing a space to have multiple uses such as work, entertaining, and relaxing.
Give Control: offer systems with multiple control functions such as voice, remote app access and automated hub settings allowing people to easily adjust wherever they are in proximity to location.
Inspire Ideas: Share the story of what technical aspects of this system or product can do for a space. Explain various uses for the product and how it optimizes the space in which it's intended.
Conserve Energy: energy efficiency and long life products are a key value. Make it easy to replace parts when necessary.
Top 3 Trends Driving Lighting Design
I've tracked three trends that inspire the future of lighting in compliance with energy efficient efforts across interior design tradeshows since 2018. Developers, designers and property owners can leverage these design insights as they upgrade to compliance by 2025.
Recessed and LED
MoMA for the Home
Back Stage Lighting
Recessed and LED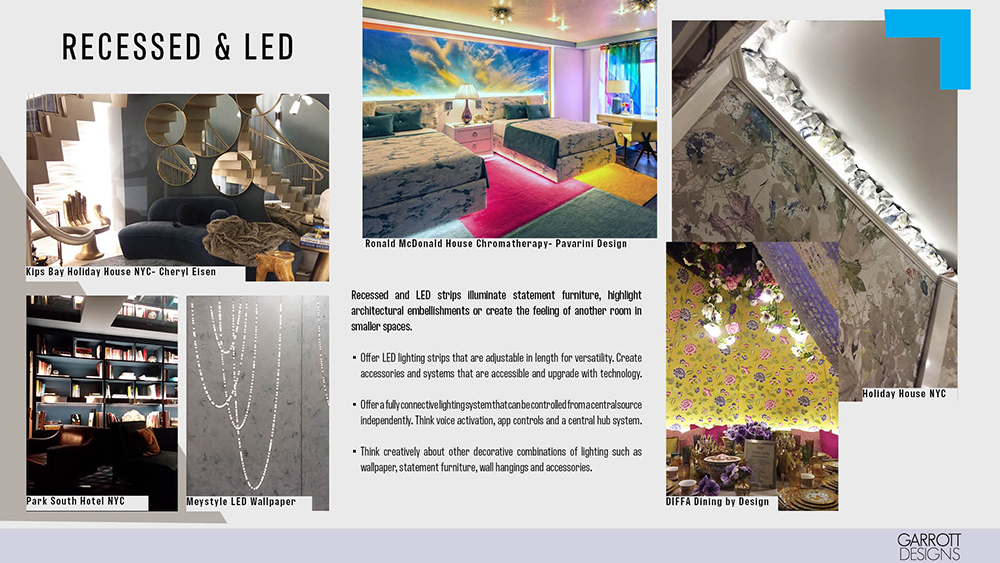 Recessed and LED strips illuminate statement furniture, highlight architectural embellishments or create the feeling of another room in smaller spaces.
Offer LED lighting strips that are adjustable in length for versatility. Create accessories and systems that are accessible and upgrade with technology.
Offer a fully connective lighting system that can be controlled from a central source independently. Think voice activation, app controls and a central hub system.
Think creatively about other decorative combinations of lighting such as wallpaper, statement furniture, wall hangings and accessories.
MoMA for the Home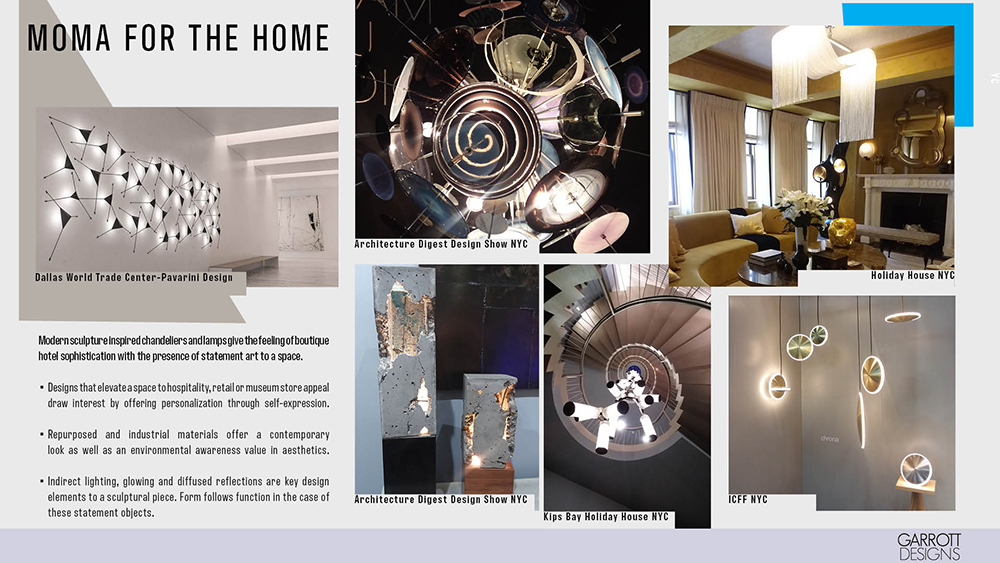 Modern sculpture inspired chandeliers and lamps give the feeling of boutique hotel sophistication with the presence of statement art to a space.
Designs that elevate a space to hospitality, retail or museum store appeal draw interest by offering personalization through self-expression.
Re-purposed and industrial materials offer a contemporary look as well as an environmental awareness value in aesthetics.
Indirect lighting, glowing and diffused reflections are key design elements to a sculptural piece. Form follows function in the case of these statement objects.
Back Stage Light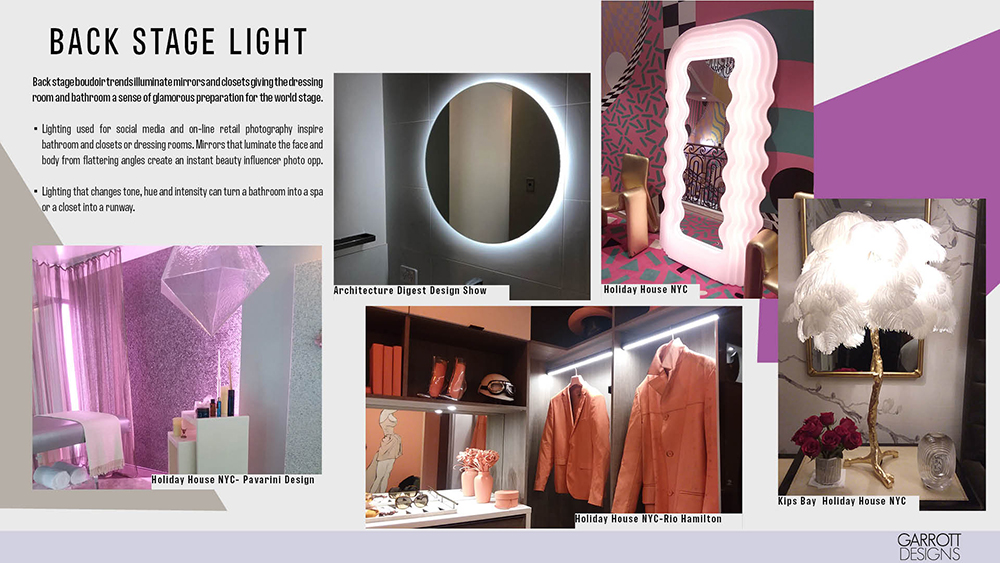 Backstage boudoir trends illuminate mirrors and closets giving the dressing room and bathroom a sense of glamorous preparation for the world stage.
Lighting used for social media and on-line retail photography inspire bathroom and closets or dressing rooms. Mirrors that illuminate the face and body from flattering angles create an instant beauty influencer photo opp.
Lighting that changes tone, hue and intensity can turn a bathroom into a spa or a closet into a runway.
Be the Change the You Want to See in the World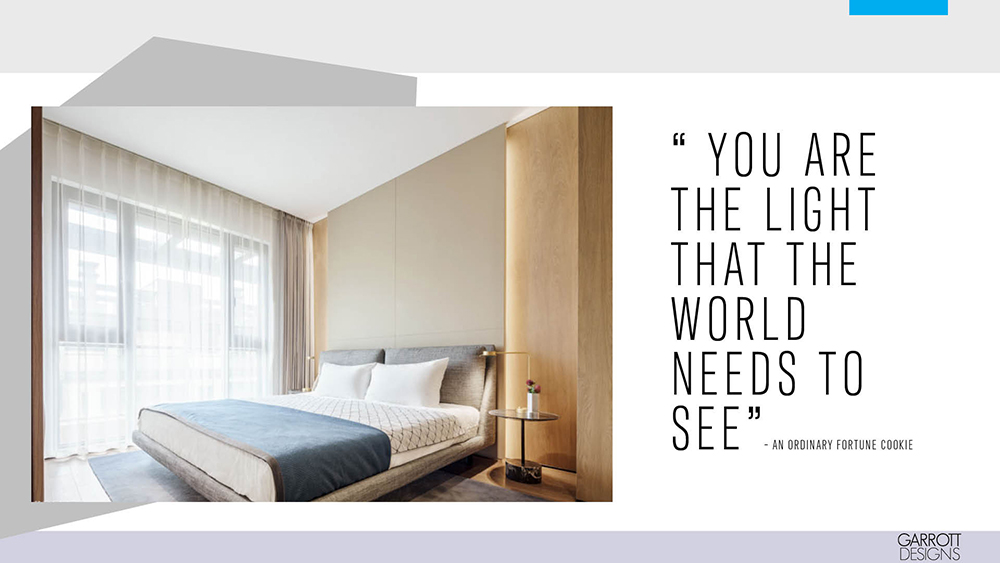 For more information on regulation compliance and product ideas, check out Regency Lighting's Blog. For commercial consultation and specification, check out SLS Lighting. You can change the world, one light bulb at a time.
https://garrottdesigns.com/wp-content/uploads/2020/03/Pavarni-Design-Ronald-McDonald-House-Chromatherapy.jpg
826
826
Garette
https://garrottdesigns.com/wp-content/uploads/2022/03/GarrottDesigns-Space.png
Garette
2020-03-16 20:44:03
2020-03-16 20:44:03
Changing the World One light Bulb at a Time