It's a dirty job but someones gotta do it! Shopping: staying on trend, finding new ideas, colors, silhouettes etc… Fashion is fast, if you don't stop and look around once in a while, you might miss it.
Not for the faint of heart, we go all over Manhattan stopping only for mimosas and chocolate covered espresso beans.
This time, we started out at South Street for a power brunch but soon made our way to Soho, Nolita, and East Village. Some of the coolest boutiques are here, peppered with a few vintage and home goods stores it's a moving mood board of inspiration.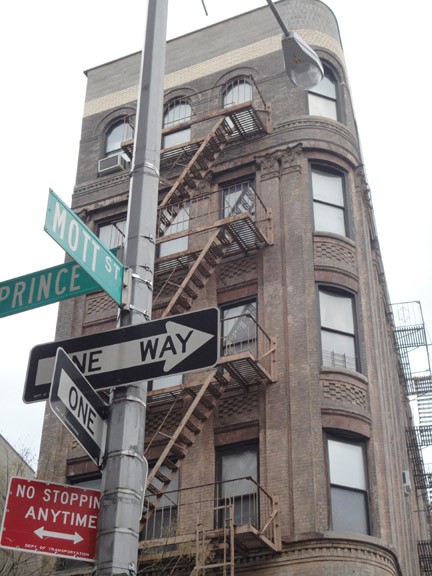 Some of the coolest places we went are:
Eva

This very cool boutique has tons of what we call "convertibles", clothes that you can twist, drape and change to get about 5 different outfits from. Awesome, awesome stuff. They also have very cool runway worthy jewelry.
Tokyo 7

Designer consignment you'll find Japanese designers like Issey Miyake and Yohji Yamamoto as well as Zac Posen and Dolce & Gabbana.
Bio

Emerging designers and a fab little floral designs service called

Castle Pierpont

the decorator showed us tons of great interior ideas and different ways to use vases when flowers aren't so fun. Way cool girl, the place alone could be a color story for a mood board.
Love, Adorned

is an eclectic place for jewelry, art, home goods and freaky weird things. If anyone want to get me the dinner set of my dreams, this is what I

want

(mom)
Ina NYC

another designer consignment shop that carry one off's in random sizes.
Rogan

A cool men's and women's boutique with indie jewelry and leather designer goods. The guys in the boutique are really cool and we even got a few new bands to listen to after our visit.
But the place that killed me was this fragrance shop. Now, I'm not an expensive perfume kinda girl but THIS place just may change me forever !

Le Labo

when  the perfumer spritzed a little of this

jasmine

on me, I about died. I was almost willing to pay ANYTHING for that bottle, almost. I will NEVER wash the scarf I was wearing again.
Sketching is key, most of the time I find a bench round the corner and scribble down the details I can remember. I'm not here to knock things off , but design details and interesting cuts get my brain thinking in different ways.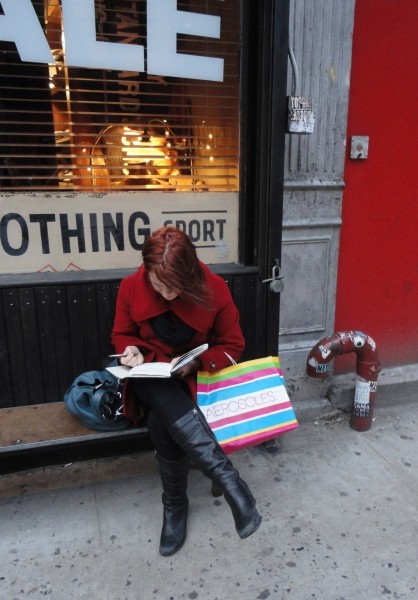 Road sketches are never pretty and I'm probably the only one who knows what I mean by them. They are really meant to remind me what I saw the next time I am draping. Sometimes I'll even write down construction details if it's put together differently than one would expect.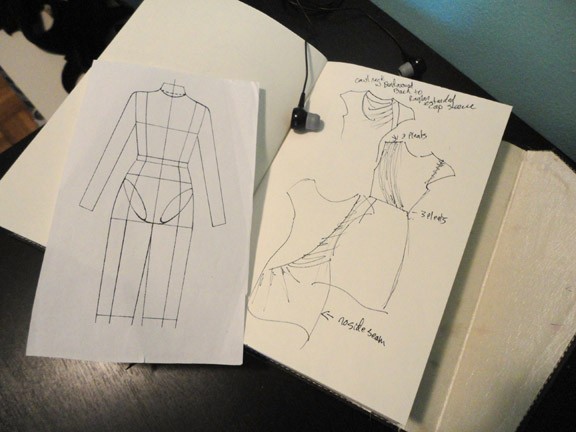 Believe it or not shopping requires strategy and planning, we don't just go out all willy-nilly like mall rats. Generally, we have a decided plan for what we want to see, then we choose and area to explore. New York is great for this because every neighborhood offers something different. But when we're visiting other cities or countries we research the lay of the land before heading out.
Some excellent resources for this are:
Lucky Magazine

has a map guide for just about every shoppable city check it out

here
New York magazine

lists the top 25 boutiques and also posts updates for sample sales in the area. (oooo samples sales)
Daily Candy

will send you email updates of things to do in your city including current sample sale posts (oooo sample sales).
New York Post

lists sales and samples sale events through out the city (have I mention how much I LOVE sample sale season?)
Shopping day is always inspiring and sort of re-lights the flame that forces us to draw and drape all day. With new ideas, and tricked out on espresso beans we settle in for some dinner, drinks and conversation. It's time well spent and recharges us for the days ahead in the studio.
If you've got some favorite shops, or shopping resources in your area we'd love to hear about them, leave a comment.
https://garrottdesigns.com/wp-content/uploads/2022/03/GarrottDesigns-Space.png
0
0
Garette
https://garrottdesigns.com/wp-content/uploads/2022/03/GarrottDesigns-Space.png
Garette
2011-04-17 14:40:28
2017-02-07 22:19:23
Professional Shoppers